Our fluid handling specialists work closely with you to determine the best solution to meet your scope while remaining within budget and on time. We strive for complete customer satisfaction with every project we take on. 
Specialized Gas Analyzer Sample Conditioning and Process Control Package

When our client approached us with a challenge to design a system with varied functionality, we immediately got to work in creating this specialized Gas Chromatograph Analyzer. In cooperation with our client, this sample conditioning and process control package was custom engineered, assembled, and tested in house.

The final package, which took 16 weeks to create from inception to completion, utilizes a variety of process control and automation in order to prepare the volatile fluid samples to specification for testing. The system is fully automated with the ability for heating, cooling, vacuum, flow, pressure automation, and control.

 
Expedited Injection Modules for a Major International Oil Producer
Wave engineered two large buildings and tanks for critical process within an oil sands mine site (fabrication of the tanks and building shell was contracted out but all engineering and drawings were completed in house). All internal structures, mechanical, electrical and instrumentation were engineered and assembled by Wave. The hazardous area (explosion proof) electrical/instrumentation included: gas detection and fire annunciation, lighting, heating/ventilation and power/signal distribution. This project took about 4 months (after scope was determined) to engineer, design, and fabricate two buildings complete with all associated QA/QC, testing and documentation.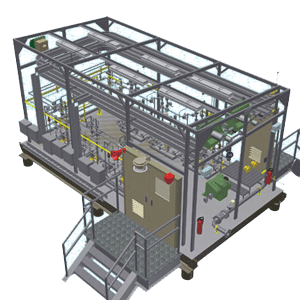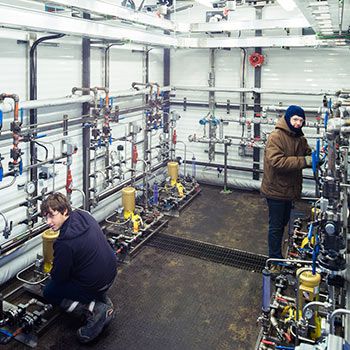 Heavy Oil Pad Chemical Injection Modules

Since 2007, Wave has completed dozens of SAGD well pad, critical chemical injection large skid packages (about 12ft x 24 ft). All light structural, mechanical, process, electrical, and instrumentation engineering and fabrication/testing was completed by Wave in-house. The majority of these pad packages included Wave's UCS system for reliable chemical metering and control.

Hundreds of Metering and Mixing Systems Provided

These systems range from a very basic single pump package to a complex system complete with electrical, instruments and automation.
Expedited Shelter for Major International Oil Producer

A portable heated chemical feed package with shelter was expedited to local upgrader in a very short time for urgent process requirements.
Pharmaceutical cream mixing and dosing system

Wave completed R&D, engineering, and fabrication of a specialized measuring, mixing, and dispensing system for medical cream for an Edmonton, Alberta-based pharmaceutical company. This project required inhouse lab testing and development of prototypes of various mixing and dosing methods to ensure  best consistency and most accurate dosing of the cream. All Mechanical, electrical, software, and hardware was engineered, fabricated and assembled by Wave. Wave has also developed and manufactured hazardous area emulsion polymer mixing and batching equipment used for water and oil treatment in the oil sands along with other specialty chemical metering and monitoring devices (UCS, UCS-POLY, UCS-LP, Verificator).
---
Customer Testimonials
"The cooperation and friendly working atmosphere at Wave has been phenomenal; our last minute design changes and upgrades were quickly responded to, allowing us to move on with testing."
"I've worked with Wave since I moved to Fort McMurray. It was a no brainer to reach out to them to supply pumps and automation systems. I like the fact that they are local; that is, Alberta based. Plus, they get product out in a timely manner. They are familiar with our applications and our chemistry and know our customers' specifications. That made it easier to build a pump skidder on site. I'd highly recommend them."
"I've worked with Wave on quite a few skids since 2010. They are highly professional. In price, they are competitive with the market. Their turnaround is better that what we have seen in the market. They go out of their way to expedite. We always meet the installation and delivery schedule because of Wave's focus on project management. But it's their engineering expertise that sets them apart. Most firms provide an 'off the shelf' solution but Wave delivers what's unique and new because of their focus on research and development."
"I was frustrated with our current vendor. Wave also provided the specific kind of pump packaging we needed but with superior service and correspondence as compared to our former supplier. So, we switched. One of the key advantages of working with Wave is they are prompt. Plus, they do not leave anything to assumptions. They have very good communications. I now refer a lot of work to Wave."
"Wave has always gone the extra mile for me. I've worked with Wave since day one. In the past when I needed something, Wave stepped up to the plate and met or exceeded expectations. They have always been there for us. They are always willing to help, even with competitor's products. They are incredibly knowledgeable with specialty products always giving us ideas to work within budget."