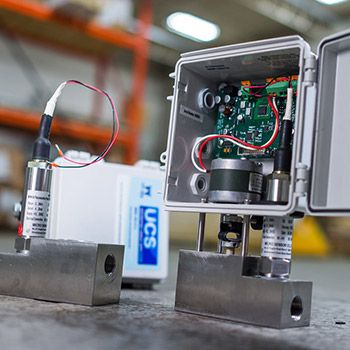 The Uninterruptible Chemical Supply (UCS) is Wave's patented automated chemical feed and monitoring system. It is protected under U.S.A. patent No. 7,263,448 and Canadian patent No. 2,501,530.
It is designed to optimize chemical usage, and to reduce the operator's time requirements. Both the National Research Council of Canada (NRC) and Natural Resources Canada supported the development of the UCS, and provided funding resources for the R&D of the product partly based on the reduction of greenhouse gas emission associated with the use of the UCS.
The UCS provides three key benefits for clients:
Reduced operational costs
Enhanced operational efficiency
Improved environmental safety
Real-time communication with the client's control room provides instantaneous responses to process changes resulting in accurate chemical feed to the PPM set point. This provides optimum operations with less downtime for a reduced carbon footprint. It also minimizes operator contact with the chemicals for an improved working environment. Tank level monitoring provides redundant confirmation of proper injection rates and helps to maintain adequate inventory.
The UCS is suitable for all types of chemical injection applications, whether they require a few milliliters/hour of chemical or hundreds of litres/hour of chemical. It works accurately and reliably with any type of pulsating or intermittently operating metering pump. A large variety of materials are available for compatibility with most chemicals such as acids, caustics, sodium hypochlorite, demulsifiers, and corrosion inhibitors.
Wave's UCS-LP System: