Our engineering team will work closely with you to determine the best solution to meet your scope while remaining within budget and on time. We strive for complete customer satisfaction with every project we take on.
Expedited Injection Modules for a Major International Oil Producer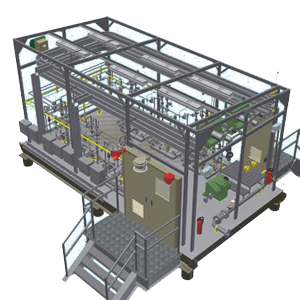 Wave engineered two large buildings and tanks for critical process within an oil sands mine site (fabrication of the tanks and building shell was contracted out but all engineering and drawings were completed in house). All internal structures, mechanical, electrical and instrumentation were engineered and assembled by Wave. The hazardous area (explosion proof) electrical/instrumentation included: gas detection and fire annunciation, lighting, heating/ventilation and power/signal distribution.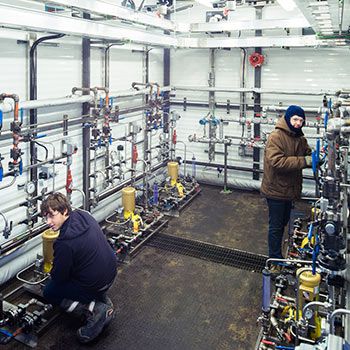 This project took about 4 months (after scope was determined) to engineer, design, and fabricate two buildings complete with all associated QA/QC, testing and documentation.
Chemical Blending Package for Potash Mining Operation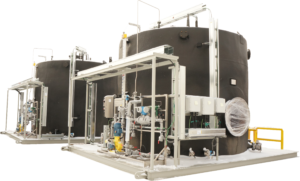 This project incorporated three packages – two systems for blending and one for injection. This Chemical Blending Package is designed for optimizing Potash production. Modules include pumps, heated tanks, temperature & pressure control, flow measurement and automation features. All structures, mechanical, electrical and instrumentation were engineered and fabricated by Wave Control Systems. The Tanks were engineered by Wave and fabricated by others. The project took about 6 months to complete from start to finish.
Multiple Injection Packages for Saltwater Environment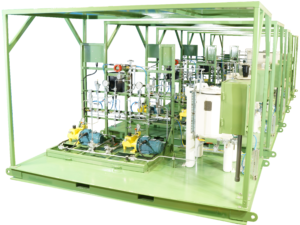 Wave Control Systems supplied five chemical injection packages, complete with bases, sunshades, tanks and controls for a chemical production facility overseas. All engineering, drawing, fabrication and related documentation was completed in house. This project included single and double pump packages, tanks, instruments, motors and controls. Wave standardized the designs to be more efficient with engineering activities and save money and time for the client. The skids and stainless steel tubing were fully coated with marine epoxy coating to be corrosion resistant to the saltwater environment.
Safety Shower

Our client approached us to work on a safety shower design that would meet their specific requirements and lead time. Wave Control was able to offer a package exactly as they requested in a shorter time and for less money than the other vendors they approached.


The system is engineered with a strict adherence to industry standards and meets all of the client's requirements. This package included a storage tank and heater which, in combination with the site's potable water supply, will provide a tepid water stream for at least 15 minutes. Programmable Logic Controller (PLC) automation is in place to control the solenoid valves on the cold and hot water streams which provides redundant anti-scald protection.


The client is very satisfied with the end result of this project.
Corrosion Inhibitor Injection System

This injection system, designed for use in one of Suncor's water treatment plants, demonstrates Wave's ability to work with a wide range of materials and chemistries. We engineered this particular system using corrosion resistant Perfluoroalkoxy (PFA) tubing and fittings along with some Kynar (PVDF) components which have very similar chemical resistance to polytetrafluoroethylene (PTFE), which is better known as its trade name, Teflon. These are just a few of the highly chemical resistant materials Wave uses when working with chemicals not suitable for stainless steel or other alloys and not fully compatible with the cements used on PVC piping.

PFA tubing, along with PVC components, often provides the best economy and suitability and is an excellent choice for use with Sodium Hypochlorite (bleach). PFA tubing and fittings can also be combined with Kynar components to offer the best balance between economy and performance when handling other aggressive chemicals not compatible with PVC.

Wave's chemical injection systems are designed for many years of leak-free operation by using flared tubing and fittings wherever possible instead of socket welded or NPT connections.

The client is very pleased with the system overall, and the project was completed and delivered as per the scope and timeline.
Methanol Injection System

Methanol Injection Systems are commonly used in oil and gas applications in northern countries, like Canada, where pipeline fluid streams have the potential to freeze. This package offers the client the ability to inject methanol directly into an oil stream. As such, it is designed for outdoor, low temperature use. It is Class 1 Division 1 certified for hazardous area and includes Wave's patented UCS Flow Measurement system, which allows for remote monitoring and control of the chemical injection.

Along with Pressure Safety Valves (PSVs), pressure gauges and pressure switches for pressure protection it also has an explosion-proof electrical enclosure. The system includes two Milton Roy MRA series pumps with low temperature capability and electronic stroke adjustment which allows for remote control of the flow. The system pictured was delivered on budget, and on schedule.
Specialized Gas Analyzer Sample Conditioning and Process Control Package

This Gas Chromatograph Analyzer is a sample conditioning and process control package. It was custom-engineered, assembled, and tested in-house, in cooperation with our client.

The project took 16 weeks to create from inception to completion. It utilizes a variety of process control and automation methods in order to prepare the volatile fluid samples for testing. The system is fully-automated with the ability for heating, cooling, vacuum, flow, pressure and control.

 
Heavy Oil Pad Chemical Injection Modules

Since 2007, Wave has completed dozens of SAGD well pad, critical chemical injection large skid packages (about 12ft x 24 ft). All light structural, mechanical, process, electrical, and instrumentation engineering and fabrication/testing was completed by Wave in-house. The majority of these pad packages included Wave's UCS system for reliable chemical metering and control.

Hundreds of Metering and Mixing Systems Provided

Our systems range from a very basic single pump package to a complex system complete with electrical, instruments and automation.

Visit Chemical Injection and Metering Systems for more examples.
Activator Package

A European-based global equipment company approached Wave to engineer and fabricate a rugged yet portable modular package that they could use for trials around the world. They free-issued Wave their proprietary activation device so that it could be integrated into the final design.

The Activator Package was mounted into two sea-cans for two reasons; to be modular, and to be easily transportable from site to site without major shipping constraints. Inside the sea-cans, there are four 2000-litre carbon steel storage tanks, complete with insulation and heating. There is one chemical injection package with gear and centrifugal pump, one modified activator package, full instrumentation, mechanical assembly and a complete electrical scope. It uses Allen-Bradley PLC and HMI in order to control the major inputs of the system and monitor the critical variables of the package during operation. The package is Class 1, Div 2 area classified.

Expedited Shelter for Major International Oil Producer

A portable heated chemical feed package with shelter was expedited for a local upgrader in a very short time for urgent process requirements.
Pharmaceutical cream mixing and dosing system

Wave completed R&D, engineering, and fabrication of a specialized measuring, mixing, and dispensing system for medical cream for an Edmonton, Alberta-based pharmaceutical company. This project required inhouse lab testing and development of prototypes of various mixing and dosing methods to ensure  best consistency and most accurate dosing of the cream. All Mechanical, electrical, software, and hardware was engineered, fabricated and assembled by Wave. Wave has also developed and manufactured hazardous area emulsion polymer mixing and batching equipment used for water and oil treatment in the oil sands along with other specialty chemical metering and monitoring devices (UCS, UCS-POLY, UCS-LP, Verificator).